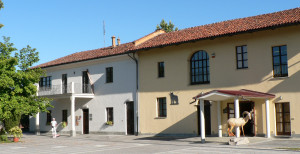 Carmagnola Natural History Museum (Turin – Italy) was founded in relation with two successive floods, that occurred in September 1973 and February 1974.
Following these events, what remained of the natural history collections of the old "Civic Museum" and of  two School Cabinets was recovered, and in the meantime  there was also an opportunity to collect many material in the field, particularly insects, abandoned or transported by water.
The Museum was opened in 1976 in the "Lomellini" Palace, in the city center. In 1990 it was moved to the new location at Cascina Vigna, in the homonymous City Park, located on the periphery of the city, a few kilometers from the river Po, which in the meantime has become part of the Regional Park System of the Piedmont Region and the museum is also as Visitor center of the Park.
Carmagnola Natural History Museum now hosts unique scientific collections of minerals and animals, with a particular focus on insects, birds, reptiles and fishes of NW Italy, Mediterranean Countries, but also Africa. The specimens are used for research purposes for internal and external projects by numerous researchers around the world.
The Museum has a number of teaching and research agreements with the Regional Park of the Po river, the Regional Museum of Natural Sciences of Turin, the Departements of Earth Sciences and Animal Biology of the Turin University.
At the Museum are based the Associazione Naturalistica Piemontese (ANP), the Gruppo Piemontese Studi Ornitologici  "F. A. Bonelli" (GPSO), and the StazioneTeriologica Piemontese (STEP).
The museum endorse the ICOM Code of ethics for natural history museums.